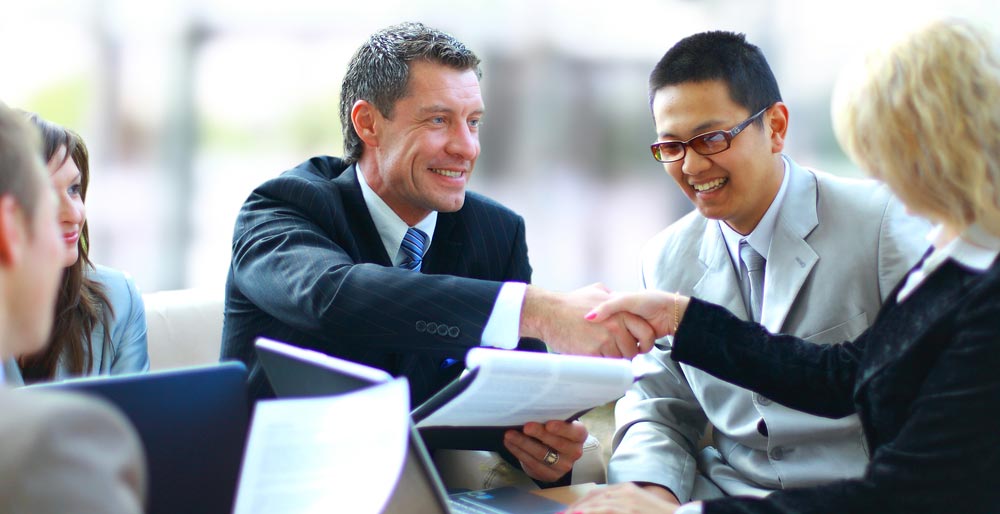 "…the single greatest barrier to business success is the one erected by culture." —Edward T. Hall and Mildred Reed Hall
Intercultural training is key to global business success.
Whether you need to relocate an employee abroad on expatriate assignment, prepare your team for new market entry or merger integration, or ensure the effectiveness of your global virtual teams, Cultural Confidence can help your company minimize the risks and maximize the opportunities related to doing business internationally.
Cultural Confidence training helps:
•    Avoid costly misunderstandings, unclosed deals and damaged relationships
•    Reduce failure of international assignments and early return of expatriates
•    Speed up project completion and avoid lag time
•    Increase productivity and ROI
•    Leverage diversity and capitalize on differences
•    Gain a competitive advantage
Our intercultural business training programs specialize in the following areas:
INTERNATIONAL ASSIGNMENTS & EXPATRIATE RELOCATION
Living & Working Successfully as an Expatriate
Foreign assignments can be a major challenge for the assignee, the trailing family, and the company. This training helps international assignees and their families to smoothly adjust to their new life abroad and ensure a successful assignment. By building realistic expectations and developing culture-effective business practices, this guided adaptation will allow assignees to focus on their work, thrive professionally and personally in their new environment, therefore reducing culture shock and chances of premature repatriation.
HUMAN RESOURCE MANAGEMENT
Working Effectively with a Diverse Workforce & Managing Expatriate Risk
Domestic success by no means implies success abroad. In fact, only about half of international assignments are judged successful and many assignments end prematurely. The main reason for such failure is not the lack of technical expertise or management skills, but rather cultural myopia and dissatisfaction for the accompanying spouse. Given that expatriate assignments are known as the "million dollar investment", it is essential to be aware of the challenges and to know how to avoid such failures from the very start.
The focus of this workshop is on two key areas of HR function. Firstly, it aims to equip HR professionals with the intercultural awareness and knowledge necessary to effectively recruit, retain and develop a culturally diverse workforce. Secondly, it will provide crucial insight into the challenges of expatriate assignments from the company, the assignee and family perspectives. This knowledge will allow for an appropriate candidate selection as well as for the ability to provide the right support throughout the expatriation process, thus avoiding culture shock, assignment failure and premature return of expatriates.
GLOBAL VIRTUAL TEAMS
Communicating Effectively with Global Virtual Teams
Global Virtual Teams face a number of complex challenges that are specific to interacting with members from different cultures, communicating via technology rather than face-to-face, as well as to working as a team. This workshop will enhance the effectiveness of global virtual teams by helping members overcome potential conflict due to cultural differences and miscommunications due to accents, colloquialisms and lack of nonverbal cues.
GLOBAL LEADERSHIP
Conducting Business Successfully Across the Globe
This training will help executives dealing with international clients and counterparts to develop a global mindset, gain insight into foreign expectations and business practices, and develop culture-effective skills and strategies that will allow them to conduct business successfully across the globe.
DIVERSITY
Harnessing Cultural Diversity at the Workplace
Most companies work across cultures even within one office location and beyond the use of unified communications. This workshop helps multicultural local teams to work and communicate more effectively with each other. While enhancing team effectiveness and productivity, this program also helps break down barriers, resolve conflict, promote a healthy work environment and leverage new skills resources.
Our country-specific offerings span the globe and include:
USA · China · India · Brazil · Mexico · Germany · Italy · France · Czech Republic · Vietnam · Korea · and more.
Click here for a sample of our intercultural training programs with a focus on Germany.
Online seminar options are available upon request.
And because no company or individual is the same, we are always happy to custom-tailor our programs to your specific needs. Our clients include:
Watch Cultural Confidence Founder Anna Katrina Davey's Paris TEDx Talk on "Cultural Competence as a Paradigm for Peace": https://culturalconfidence.com/tedxtalk/

"The Cultural Confidence course provided much appreciated insight for our team to help us enhance our relationships with our customers and business partners in South America. Anna Katrina provided relevant course content and an engaging approach to the topics. With a challenging team to guide, she navigated us seemingly effortlessly and very professionally through the cultural landscapes that we strive to better understand."
Kate Hood
Major Global Shipping Company
"The training delivered by Anna Katrina certainly exceeded my expectations and gave me the confidence to feel more secure with my new job assignment as well as with living in Germany. The approach of Cultural Confidence prepared me for what was to come and the transition to Germany was seamless. Recommended … "
Victor Reyes
ThyssenKrupp AG
"Multi-lingual, multi-cultural, multi-talented: Anna Katrina Davey at Cultural Confidence leads seminars and workshops that meet the needs of each participant, stimulates thoughtful discussions that magically play out in missions abroad, and fosters skill development beyond the workshop/seminar description. Anna is engaging and brilliant, but, also sensitive to individual needs and interests of her trainees."
Catherine MacDermott
Professor of Business Communication, St. Edwards University
"Anna Katrina of Cultural Confidence delivered an eye-opening cross cultural workshop. I work with clients from every corner of the globe on a daily basis. Anna Katrina brings professionalism and passion for the intercultural, helping us move beyond our current perceptions. Anna Katrina also tailored the program to match our specific personal and business situation. I was able to instantly apply the new skills learned because of the customized training approach. I highly recommend contacting Anna Katrina if you plan to be successful in communicating across culture boundaries."
Jaron Banks
Alcatel-Lucent
"Riccardo nous a beaucoup apporté dans une approche inter-culturelle entre les Italiens et les Français. Son expérience internationale lui fait aborder les points essentiels d'une relation professionnelle internationale respectant les valeurs culturelles des acteurs nationaux. Beaucoup d'intelligence en plus !… Merci de cette belle rencontre !…"
Jean-Paul Bellec
Thales Alenia Space
"Anna Katrina Davey and her consultants at Cultural Confidence provided our senior sales and marketing executives with a truly insightful intercultural training program on doing business with Latin America. It explained the issues I've encountered in my interactions with Latin American counterparts and helped us understand the preferred communication styles and business practices of the different countries in the region."
VP Marketing
Major Medical Device Company
"My family and I have recently relocated to Hamburg, Germany, as part of a new business opportunity. FMC contracted with Cultural Confidence (formerly Across Cultures) to provide cultural awareness training to support our transition process.
Anna Katrina's experience, intelligence and communication skills have significantly aided in the transfer of her personal experiences to my family's situation. We have utilized the material and information literally every day. Anna Katrina's enthusiastic and first hand knowledge and communication skill have been a big part of a fulfilling experience."
Clinton Metcalf
FMC Technologies
"The cross-cultural training was not only informative, but most importantly, thought-provoking. Anna Katrina furthermore made it fun and interesting. As we depart for Beijing, we feel confident, prepared for the assignment, and ready to experience a fascinating new culture. Great program!"
Rich Garrity
ThyssenKrupp China Ltd.
"The cultural orientation provided by Anna Katrina Davey gave me a much better idea about what to expect once I moved to Germany as well as confidence when working in my new environment."
Ivan Mejia
Adidas