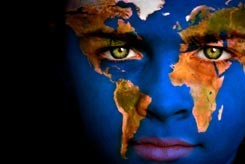 I was born and raised in Trieste, Italy, city of arcane splendor and elusive identity cradled at the top of the Adriatic Sea. I have called Italy as well as Connecticut, Germany and more recently Texas, home. I have also lived in Hanoi, Vietnam and have traveled about 45 countries, many of which for extended periods of time. A decade ago I moved to Austin, Texas where I founded my intercultural training and expat relocation services firm, Cultural Confidence.
If you were prone to stereotyping, my hometown of Trieste would help you appreciate the intricacies of culture. Located at the farthest northeastern corner of the country, only twenty minutes from the border with Slovenia, half hour away from Croatia and one and a half hours from Austria, Trieste has been a crossroads of Latin, Slavic and Germanic cultures throughout history. Greeks, Jews and even Armenians have thrived here and contributed to its rich culture. And over half a millennium as part of Austria, later to be the Austro-Hungarian Empire, have lent the city the strong Mitteleuropean flavor it shares with other Habsburg cities such as Vienna, Budapest and Prague.
For all the differences one could possibly imagine between my place of birth and the place I now call home, there are three commonalities that come straight to mind. Firstly, the limestone and low vegetation of the Texas Hill Country just west of Austin resemble the topography of the Carso, the karst landscape surrounding Trieste. Secondly, Texas' strong independent identity and ongoing conversations around its alleged right to secede bring to mind Trieste's small yet committed movement towards recognition as a free city-state. Interestingly and baffling enough, our ID cards, issued by the Italian government, feature a silhouette of the country missing Trieste's territory! Thirdly, both Austin and Trieste seem to be proud of the oddness of their inhabitants. Austin in fact prides itself in "keeping it weird" while in Trieste we say "se no i xe mati, no li volemo" – "if they aren't crazy, we don't want them". Further proof of our kookiness is that in our dialect, the normal, neutral way to refer to a guy is with the word "mulo" or "mato". Literally, and to all other Italians, these words refer to "mule" and "crazy one" respectively, but for us, it's just how we call our fellow humans. At this point I should also mention that my hometown is pioneer in the field of mental health. In fact, under the leadership of psychiatrist Franco Basaglia, Trieste, soon followed by the rest of Italy, became the first place worldwide to abolish psychiatric hospitals in favor of a more humane, inclusive and progressive treatment of the mentally ill. Unsurprisingly, "crazy" is a customary part of the Triestine landscape.
Karma, family circumstances and lack of a conventional sense of belonging inherited from my hometown, have led me to explore my identity and its multiple facets by experiencing different cultures. Accordingly, I have lived and worked on three continents and traveled some of the remotest parts of the world. A brief romantic relationship led me to leave my job as an intercultural advisor with the German Development Service in Hanoi, Vietnam and move to Austin.
Austin wasn't love at first sight for me, despite the expectations of all the locals who with smile to their ears would ask me the rhetorical-sounding question "So how do you like Austin?" – with only one fathomable enthusiastic answer in their mind. I also did not relate to the ubiquitous bumper stickers proudly displayed on many cars that read "I wasn't born in Texas, but I got here as fast as I could". Yet despite a brief hiatus in New York City I stayed. Time in fact has changed both Austin – one of the fastest growing cities in the US – and myself in such ways that this is the place that I now proudly call home.
The quality of life here is good. People are friendly, kind and non-judgmental, the weather is nice year-round, we have a lake rimmed by a stunning 10-mile trail in the middle of town and an array of activities of all kinds to enjoy. Locally owned coffee shops are the norm, restaurants of all kinds with organic, locally sourced, vegan and gluten-free options abound as well. My evenings out include the most diverse activities, ranging from dancing forró to live music on a patio outside of an organic supermarket, salsa on a musician barge at Town Lake (now officially Lady Bird Lake), and bollywood for a fundraiser or flash mob. I regularly go to the opera as well as enjoy intimate community gatherings singing kirtan or partaking in sacred indigenous pipe ceremonies. And so much more. I have also somewhat preserved my old-world lifestyle by biking through town whenever I have the chance – to meet up with a friend, take part in a yoga class, go to the farmer's market or buy groceries at Whole Foods Downtown. Proximity to all these things and riding my bicycle, are essential to my lifestyle. And given the fact that direct access to raw nature is also vital to me, I am fortunate to live in what I find to be the best part of town. In fact, while enjoying proximity to the city's "core", I live directly on the "Greenbelt" that stretches through Central/South Austin. There is hardly anything that gives me more satisfaction than being able to walk back home through the beauty and simplicity of the Greenbelt after a swim at Barton Springs Pool or a Sunday afternoon spent downtown.
This is also where I work. My Austin-based company, Cultural Confidence, provides three main services: Intercultural training, expatriate relocation services and language training. While the third offering is relatively self-explanatory, I will briefly provide some insight into the first two aspects of my work. Through intercultural training we help companies succeed in global markets by giving their employees the confidence to work and communicate effectively with foreign counterparts and clients. We help clients in the areas of international assignments, expatriate risk management, global virtual teams, new market entry and merger integration. This work seems to be a natural path for me and is a reflection of some of things I value most in life. It is about developing a holistic perspective, recognizing the yin and yang of our culture-based values and respecting a plurality of views. It is about breaking down barriers through understanding, communication and connection, and ultimately fostering global peace. It was precisely in this spirit that in May 2016 I had the honor of giving a TEDx Talk in Paris on "Cultural Competence as a Paradigm for Peace".
As to the second aspect of work I mentioned: A few years ago, in the wake of Austin's fast-paced growth and several inquiries, I decided to add Austin-bound expatriate relocation services to my firm's offerings. In this capacity, we help company transferees and new-hires from every corner of the globe efficiently settle into Austin. We provide them with an area orientation and tour, home finding assistance and help getting official documents such as a social security card or Texas driver's license. Having struggled first-hand to make this place my home and now truly appreciating and enjoying it, I find it rewarding to help others experience a smooth transition and discover all the wonderful things this place has to offer. As I believe joys are to be shared and not be hoarded away from others, you can confidently assume that my car does not display the increasingly common bumper sticker "Welcome to Austin. Please don't move here".
[The original version of this article is an interview of Anna Katrina Davey with Eurocircle: http://www.eurocircle.com/euro/anna-katrina-davey-bridging-cultures-and-giving-companies-the-confidence-to-succeed-globally/]